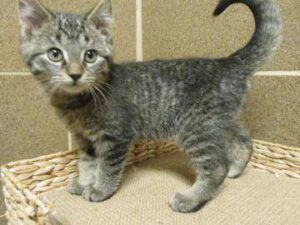 Everyone has strengths
Knowing your strengths can help you be more confident with a more positive attitude.  Strength-based recovery uses your goals and talents to help you get through rough times.  First, start with what you already have and then build on them to gain insight, ability, and power that can help you make healthy changes.
As we grow in age, we also have the chance to develop and improve.  Focusing on your strengths instead of weaknesses can help you toward recovery.
The tiny kitten in the picture above doesn't look like he has many strengths, but he did. He grew up to be a large, healthy cat named Duke.  He stayed playful and sweet, but he became strong, agile, and wise.
What strengths do you have?
See some common ones listed below (and you may add others). Notice the ones that you have. After that, think about which ones you would like to improve on:
Curiosity, or love of learning
Persistence
Kindness
Social intelligence
Humility
Self-control
Gratitude
Hopefulness
Able to adapt
Able to cope well
Express emotions well
Assertive
Courageous
Creative
Energetic or active
Having faith or spirituality
Future or goal oriented
Being a good citizen or team player
Good sense of humor
Intelligent or wise
Motivated
Open-minded
Polite or kind
Realistic
Resourceful
Responsible or trustworthy
Self-reliant
Sensitive
Strong support system
Thoughtful
Having zest for life
Your strengths for recovery:
Strength-based Recovery promotes resilience and self-acceptance, improving empowerment in recovery. And, it helps you succeed in challenging situations that may seem hopeless or helpless.
Build hope from within. Look at past successes and promote change by asking:
What has worked before?
What has not worked?
Remember that you are unique – Your strengths and weaknesses are not the same as anyone else's .  By looking at your own set of strengths, a realistic, specific plan can be made to develop them. Then, allow your strengths to help you and your situation as you recover.
Blog # 7 written 12-6-15 by Mary Knutson of Health Vista, Inc.
Updated 5-25-20