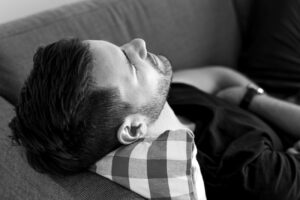 Photo via Rawpixel
Sleep Better for Your Health
Sleep is very important to improve our mental health and well-being. Try some tips to sleep better and make a difference in your quality of life. Sleep disorders are common among people with mental health conditions. Depression and anxiety are also common with many sleep problems like insomnia or sleep apnea.
Although insomnia can be a symptom of some mental health disorders, the relationship between sleep problems and mental illness is complex. Research suggests that poor quality sleep can contribute to mental conditions. Treating sleep problems can be one way to relieve some symptoms you may be struggling with.
Improve Your Sleeping Environment
The bedroom sleep environments have a much greater impact on our quality of sleep than most people think. Common things that disrupt sleep include noise, clutter, heat, and even small amounts of light filtering in from outside or inside your home.
Using your bedroom for stressful activities like work or studying can also contribute to sleeplessness. Consider giving your bedroom an upgrade to promote better sleep. Hang some blackout curtains, get a white noise machine, and move electronics into another room.
This is also a good time to check your bed and make sure it is comfortable. If your mattress has visible sagging, lumps, or tears, it's time for an upgrade. A good-quality mattress is essential to provide the comfort and support your body needs to fall asleep quickly and stay asleep during the night.
Before going shopping, take some time to learn about different mattress types and materials so you can choose the best option for your needs. For example, memory foam mattresses can be great for many different body types and sleeping styles since they're available in numerous firmness levels. If you like a little bounce to your bed, you can even get hybrid memory foam mattresses that contain both coils and foam.
Stick to a Sleep Schedule
Sleeping on an inconsistent schedule can also cause sleep-related issues. Your body runs on a kind of internal clock called the circadian rhythm. This regulates your sleep-wake cycle, helping you feel awake during the day and tired at night. However, fighting against this natural process can leave you feeling tired and groggy in the mornings and wakeful at bedtime. Try to go to bed and wake up at the about same time every day to avoid disrupting your circadian rhythm.
Care for Your Body
What you do during your waking hours will also affect your sleep. For example, studies have found that moderate aerobic exercise can increase the amount of rejuvenating deep sleep that you get, according to John Hopkins Medicine. At the same time, eating a balanced diet focused on fresh fruits and vegetables, whole grains, and lean proteins can help your body regulate your sleep cycles. Try to limit your consumption of caffeine since it is closely tied to sleep problems.
If you want some extra help to learn how to treat your body right, you may want to work with a nutritionist, dietitian, or fitness professional. Fortunately, you can find these wellness specialists through online freelancing platforms. Simply, search for the service you are looking for, read the reviews and talent details. Then, choose a specialist that fits your needs and budget.
Try Relaxation Techniques
Many people with mental health conditions can benefit from learning a few relaxation techniques to quiet the mind before bed. The National Sleep Foundation recommends breathing exercises and guided imagery to promote sleep, but you may also want to try progressive muscle relaxation and mindfulness meditation. Find relaxation exercises that work for you and then start a habit of practicing them every evening to help your mind and body wind down.
Get Mental Health Help
For anyone with an underlying mental health issue that is getting in the way of quality, restful sleep, professional help is worth it. For example, if you have depression and experience difficulty sleeping, consider seeking treatment for depression. Mental health counseling can be effective at relieving the symptoms of depression.
Learn More about Sleep and Recovery
Health Vista has many resources for health and well-being.  You can find a How to Sleep Better handout on the Recovery Education page, with a few more tips for you. Browse the website to find ways to improve your quality of life whether or not mental illness is a problem for you or a family member. A Coping and Relaxation Workbook is also available to download and print free. Using coping techniques can help you to fall asleep faster, and to avoid over-reacting with anxiety when you wake up during the night.
Remember How Important Sleep Is
Sleep plays an essential—yet often overlooked—role in our physical health and mental wellbeing. Don't settle for poor-quality sleep. Try improving your bedroom. Upgrade your mattress, if needed. Pick up some healthy habits and routines. Start taking steps to sleep better today, so you can wake up to a happier and healthier tomorrow.
Blog Post # 25  added 2-25-21 by Guest Contributer Sheila Olson of fitsheila.com.  Edited by Mary Knutson.