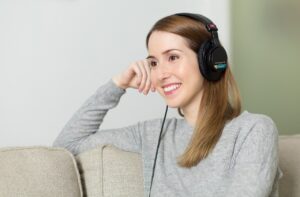 Why Learn Music at Home?
The Covid-19 pandemic has changed many lives. It put limits on socializing, traveling, and going to classes. So many things were avoided or postponed that it may affect a person's physical health, mental health, and their well-being. It is important to find things that will help you take care of your mental health during these challenging times.
There are many ways to cope with feelings of stress or isolation, one of which is learning music at home. Did you know that playing an instrument benefits your brain?
Music in Human Evolution
Music has been around for a long time, playing an essential role in the life cycle of humans. Evidence was discovered that ancient ancestors made flutes from animal bones and used stones and woods as percussion. They used music to bond socially and to calm babies. Our ancestors developed music as one of their ways of communicating and for ritual and religious practices.
During the early years of music, most songs had a religious theme and were used for worship. Now, we also have contemporary music. The beats, rhythms, tempo, lyrics, and popularity of different genres changed through the years. Also, the way people access and listen to music has changed. Music transitioned from reels, phonograph records,8 track tapes, cassette tapes, CDs, and radio to headphones, earbuds, and Bluetooth devices. Now, people can easily listen to their favorite songs using mobile phones. You can sing along with emotional or upbeat lyric videos on YouTube or find Karaoke versions of the songs you like. Choosing inspirational music for adults or for teens can even be used to help your mood. Music can be a healthy choice that can decrease anxiety and stress.
Make up for Lost Time
Although listening to music is good, it is even better if you learn to play music, to build your brain power, creativity, and to express yourself. It is never too late to learn to play an instrument. It is possible at any age. During this pandemic, many people spend a lot of time at home, scrolling on social media sites and playing games. Instead, you could use your computer, smartphone, or other gadgets to go online to learn to play music. Becoming a musician will help you develop new skills and can fulfill your long-time dream of learning to play music.
Choose an Instrument
If you want to learn music, the first step is to pick a musical instrument. Something that you are interested in learning, and find the best instrument for you. You might want to visit a music store to see what is available, and how much they would cost to rent or buy. Choose an instrument that you really like because it will help you keep going during the times when it seems too difficult. If you are interested in string instruments, you may want to try the ukelele first before a violin or cello.
Consider the type of songs and music you love to listen to. Choose an instrument that you could play your favorite songs with. Or, you could choose to use your voice as your instrument and have singing lessons.
Consider buying a music book that has some easier versions of songs that you like, to help you be inspired and have fun during your practice. It takes time and requires so much patience that you will want to do everything you can to stay motivated and happy.
Find A Teacher
After you have decided on the instrument, you can also look for a teacher who will help you learn and develop your new skill. During this pandemic, if it is not safe to meet people outside, you can still study your instrument at home with the help of a teacher who will give a lesson and interact with you virtually. Sometimes, online lessons may be at a lower price than face-to-face lessons.
If you cannot find local music teachers that will help you play an instrument, you can try enrolling at a music school that offers online music or voice lessons. Various schools offer music lessons online, such as Sage Music. The teachers at Sage Music are supportive, patient, and professional musicians that give individual attention to learn how to play your chosen instrument. Having the support and guidance of a music teacher will make a difference in your journey to learn music.
Learn Music Online
Restrictions from the Covid-19 pandemic are not a hindrance to becoming productive and learning something new. If you wish to learn music, you can do that online. With high-quality music lessons, your musical skills grow and improve. As you achieve your goals, you gain self-confidence, feel great about your music, and have fun.
Find Ways to Cope
Accept that the pandemic has brought a lot of changes to people's lives. Music can help many people to cope with stress and anxiety. Music can help people overcome mental health issues and create a sense of community, belonging, and participation. Virtual performances can be beautiful and inspiring for performers and for those who are able to watch and listen.
Conclusion
If you have anxiety and are feeling stressed, consider learning music to help improve your sense of well-being in spite of the pandemic. Start and learn music now, as a way of coping, relaxing, and developing your skills.
Blog Post #27 added 10-27-21 by Guest Contributor Curtis Dean of Sage Music.   Edited by Mary Knutson of Health Vista, Inc.