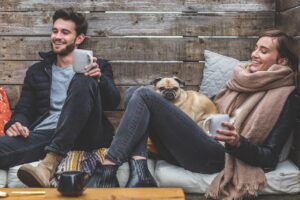 Strive to recover after addiction or other life challenges
Those who commit to to it can recover from addiction or other life challenges. They have a priceless opportunity to thrive and create a better life. To optimize your life, you may need healthy lifestyle choices, a supportive social life, and the drive to take charge of your life.
Remember that in 2020, there were many more changes and challenges than usual for individuals, families, and communities.  The year 2021 continues to be difficult for people with addiction or with mental illness, but recovery is possible.  Be kind to yourself as you realize all you have been through and survived. Both good and bad life changes can sharply raise your level of stress.
Get enough exercise and rest
Whole-body wellness means balancing the right amount of activity and rest.  We need both physical and mental strength to fight for recovery every day and to replace bad habits with good ones. Exercise has proven to be an effective recovery tool because "working out" affects the brain in a positive way.
If you want to add exercise to your life during recovery, think small at first. The goal is to identify and start an activity that is sustainable for the long haul, so you can stay self-motivated. Hitting the gym hard for 30 days until you burn out is not especially helpful. But, walking a little bit every day is an activity that can last a lifetime. Other low-impact exercises could include lightweight muscle workouts using small dumbbells, kettlebells, or resistance bands. If you don't have weights, you could put water into milk jugs until they are the weight you want to use. Muscle exercises and the active movements are important to jumpstart metabolism and help to strengthen your core muscles.
Improve your nutrition
Besides adding physical activity, improving your diet also supports your overall well-being. Eating healthy foods and getting balanced nutrition are key. Destructive habits like substance abuse can take over your life if it seems like getting high or drunk becomes more important than eating. Recovery is an opportunity to start over and refuel the body with much-needed nutrients.
Switching quickly from an extremely poor diet to a healthy one can be difficult because your habits can be powerful. Consider small, impactful changes to your eating. Some healthy changes can include:
Eating regular meals on a schedule.
Cut down on caffeine, if possible. Drink plenty of water.
Eat foods that are lower in fat, higher in protein and fiber
Add vegetables to your plate. (Try covering half the plate in garden colors, then dividing the remaining half into a quarter of protein and a quarter of whole grains.)
Experiment with different flavors to add excitement to your meals. People often reach for junk food because it tastes good, but healthy food done right can taste even better.
Plan meals in advance and have a big cooking session. If you can spend a few hours in the kitchen on a Sunday, you can make your lunches and dinners for the entire week and avoid the temptation to grab a quick unhealthy bite during the week.
Find Positive and Supportive People
Healthy living includes spending positive social time with people and having fun. For instance, healthy cooking "parties" can be a way to meet new people or connect with old friends. The key to your social life— and the struggle — is to disconnect from negative influences that may trigger a relapse. To have a better "road to recovery", you may need to find new friends. If you are an alcoholic, instead of going to bars, "hang out" at coffee shops or other places where they don't serve alcohol.
Social support is crucial to recovery because you may not be able to manage triggers on your own. Supportive friends and family can help you stay on track and to keep busy enough so there is no room in your life for bad habits.
Take Control of Your Life
Taking your life "by the reins" is like steering yourself away from stress and addiction toward recovery. Problem-solving will be needed after you figure out what is bothering you the most. Perhaps your financial situation is the current source of your stress. Or, maybe you're not totally satisfied at your job, but don't feel financially comfortable enough to leave. Maybe you've recently lost your job and don't know what your next move should be. Think about what you would most like to do in life, and then pursue it. This life change could be an opportunity to do something you love. You may want to start a "side hustle" or launch your own business.
If you are considering forming a business, a good way to protect your personal assets and qualify for more tax breaks is  LLC filing. Like most states, MN allows a company to be structured online with affordable services. First, you would need to spend some time brainstorming to choose a unique business name, and then start making a business plan.
Learn How to Cope
It could be scary to jump into starting a new business, a new job, or new relationships after a major life challenge. Your confidence is usually low, and your future may look uncertain. But, when you choose something you really want to do, it will help motivate you toward a more successful and stable future.  Make sure you talk about your plans with your family and friends, they can advise you and support you as problems come up.
In recovery, your emotions may change quickly, like an emotional "roller coaster". It helps to have a coping plan to help you and your family deal with negative thoughts or behaviors.
Health Vista, Inc. has a Coping and Relaxation workbook you can download and print. You can also find many local and online addiction resources, and recovery resources to use.
Through healthy living, people in recovery can thrive. Rather than following a downward spiral, start making improvements in exercise, diet, positive social support. Follow your passion to help propel you to a better life as you recover from addiction or other life challenges. .
Finding success involves planning and a high level of self-knowledge, but it is easier than you might think. Get active and healthier. Laugh with good friends. Manage your life and learn to cope with the stress that comes with big and small life changes.
Blog # 24  Added 2-11-21 written by guest contributor Dylan Wallace.  Edited by Mary Knutson, Health Vista, Inc.
Photo Credit: Pixabay