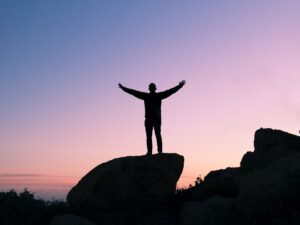 How to cope with grief during addiction recovery:
The grief of losing someone close to you is difficult for anyone. For someone who has struggled with addiction, the feelings of sorrow after someone passes away may seem like too much to bear. But, you know that having a relapse can be lethal. So, you must find your strengths to cope with grief during addiction recovery. Then, find the help you need to heal from the emotional damage without returning to your destructive behaviors.
The death of a friend or loved one can leave anyone feeling dangerously low. HealthVista, Inc has some helpful information on its website about grief, including a checklist to show you how normal responses to grief can vary. Many coping strategies to help you during those difficult times of bereavement during addiction recovery can be found in this blog post below:
Tap into your strengths
Remember that the same inner strength and resources that helped you fight addiction can help you get through the pain of grief. If you've been through a recovery program, you've probably learned some highly useful strategies. Realize that your personal strengths can help you. Now's the time to use them, because giving into addiction will only make a bad situation worse.
Find support
Don't be afraid to reach out for help. The most important thing is to stay with your detox treatment plan. People who are close to you can help a lot you as you recover from loss. Feeling supported and loved by your family and friends can help you resist the strong urges to turn to drugs or alcohol. For many addicts, family is a powerful source of strength. Consider making efforts to reconnect to family, friends, and your spiritual supports if you have been apart. Remember, one of the primary lessons of substance abuse treatment is to surround yourself with positive people.
Get professional help
You may need some counseling following the death of someone close to you. Counselors can help you avoid falling back into drug use, alcohol abuse, or other unhealthy addictions. Grief counselors teach strategies for coping with depression and the hopelessness that can be part of bereavement. Substance abuse therapists and support groups can keep you focused on preventing a relapse.
It is hard to find a counselor that can help you through both your grief and addiction, although many therapists excel in one or the other. They are both important as you cope with grief during addiction recovery. Grief counseling addresses the loss of a very real and physical person while substance abuse counseling helps you through the loss of your old ways. Even as you get healthy, you may miss things that you don't want to admit.
Finances are another concern when seeking professional help. If you have yet to re-establish a career and get yourself back on your feet, paying for the help you need can seem impossible. Ask about any sliding scale services that can work with your budget or your insurance.
Let go of guilt
Not everyone can easily turn to their family, friends, or loved ones for help. In the early days of recovery, you may find it difficult, especially if they are the same people you hurt when you were under the influence. Asking for help may be hard, even among your peers. You or your fellow addicts may have done unspeakable things to fuel desires. It's hard to face that and open yourself up again to uncertain emotions.
Recovery often involves confronting the feelings of guilt and shame for your past actions that may have affected the people you love. It is a complex emotion that you can learn more about from this handout or by watching this Mananaging Guilt Powerpoint . When the someone you've hurt has died, you may never have the chance to make amends. This can make it even harder to grieve their death since a part of your atonement died with them.
Guilt is hard to overcome. Lingering guilt can feel all-consuming and keep you trapped in your addiction even if you haven't been using anymore. If you never get the opportunity to rectify your actions, you may find yourself locked in a pattern of wanting to move forward and heal, but not being able to because you never got to truly redress your wrongs. Learn to let go of the guilt, because holding on to it can increase your risk for relapse.
Get enough sleep
If you don't take care of yourself physically, it can also make it harder to avoid relapse. A lack of sleep can trigger depression in anyone, but sleep is doubly important for addicts, who need to feel refreshed and strongly fortified against addiction. Being unable to sleep is not unusual when someone is grieving, but and it can weaken your self-control. Try to establish a regular sleep pattern by going to bed and getting up at the same time each day. If sleep deprivation persists, consult your doctor or counselor.
Eat healthy foods
Good nutrition is also essential for addicts who have gone through recovery. You probably learned to that a variety of foods and nutrients is needed for your physical and mental health. Renew your efforts to improve your nutrition, if needed. Try eating balanced meals each day, emphasizing foods that you like, plus fruits and vegetables. See your doctor if you have a persistent lack of appetite, or anemia.
Find a creative outlet
Positive and healthy distractions are effective ways to help overcome depression. Spend some time indulging your creative side with activities that engage your mind completely, such as music, writing or journaling, drawing, or gardening. Creativity can help you express your emotions, give you a sense of accomplishment, and a somewhat different perspective on a troubling situation. Going for a walk outdoors or participating in sports or exercise can also be very healthy both physically and mentally.
Set goals
This might also be the perfect time to examine goals you might previously have put on the shelf. For instance, you could take steps toward further educational goals. You might even decide to get serious about advancing your career or starting your own business. With online classes, there are more flexible programs available. Starting college later than usual can give you more experience in the real world, and make you uniquely equipped to handle the challenges!
Spend quiet time for relaxation
It's important to understand your emotions in order to get then under control. Meditation and relaxation techniques can help quiet the mind and help us let go of the things we can't control. Learning to cope by using meditation, mindfulness, or other ways of relaxation can reduce the confusion and grief after loss and bereavement.
While your instinct can be to shut everyone out, it's important to stay socially connected after someone dies. Whether it's an addiction counselor, a grief counselor, a solid family member or a good friend, you'll know who you can turn to. It won't be easy, but the influence of family members, friends, and counseling professionals can keep you grounded and on the right path. Grounding techniques can also help you fight the strong urges and cravings that are common during recovery from addiction.
Plan for a solid recovery and avoid relapse
Use your strengths and your supports. Seek clear and practical health information to develop and promote a plan for healing both your body and mind. Explore the many resources and the Recovery Workbooks at Health Vista to improve your mental health as you recover and manage addiction.
Blog Post #28 added 12-29-21 by guest contributor Gwen Payne of invisiblemoms.com . Edited by Mary Knutson of Health Vista, Inc.
Photo courtesy of Pexels